Our Annual Mass of Remembrance will take place on Wednesday 29th November.  Those wishing to have a candle lit in remembrance of a loved one, should communicate the names (by email, telephone or "in person") in the parish office before Mon 27th.
Taize Prayer Vigil
Why not join us on Saturday 30th September at 7.00pm, as we join with those in Rome and around the world, to pray for the work of the next assembly of the Synod (on synodality) and the furthering of the work of reconciliation between the different Christian traditions.  All welcome
---
MASS OF THANKSGIVING
To mark Fr Damien's departure from our parish a Mass of Thanksgiving will be celebrated in our parish church on Friday 8th September at 7.30pm. A reception & presentation will follow the Mass. All are welcome.
Those who wish to make a contribution towards a presentation gift are asked to leave it in the parish office/ or place it (in a suitably marked envelope) in the collection basket during Mass, before the day of the Mass. Those who wish to acknowledge Fr Damien's departure in their own way are, of course, welcome to do so.
---

Evangelium Ireland will host its next Apologetics Conference for young Catholics at The Imperial Hotel, South Mall, Cork City on Saturday, 7 October beginning at 11.00am and concluding at 4.30pm. The theme of the conference is Towards Lifelong Formation. Speakers: Bishop Alphonsus Cullinan Defending the Faith in the Public Square; Fr Eamon Roche 'Until Christ be Formed in You' – A Roadmap for Catechesis and Christian Formation; Fr Patrick Cahill Studying Discipleship at the School of Mary. Cost: €15 including refreshments. For more information about Evangelium Ireland and to register go to www.evangelium.ie or search 'Evangelium Ireland' on Eventbrite.
---
Have you ever wanted to learn how to use your Bible?
Is the Bible for modern times?
The Dig-in Bible course over 8 weeks is designed to help people understand and use their Bible in a simple, practical, down to earth manner.
This exciting course will teach you, where the Bible came from, who wrote it, how to use it in your everyday walk of faith.
Venue: Oasis of Peace Centre, Mellifont Abbey, Collon, Co Louth
Cost: donation.
To book your place call 089 615 2568 or email info@apostlesoflove.ie
---
Catholic Marriage Encounter Weekend in Cork – November 2023
Catholic Marriage Encounter is a Weekend experience for any Sacramentally married couple.
Every relationship is a journey, and the grind of everyday life can cause you to lose touch with your spouse. This is a space for you and your spouse to pause, reflect, and reconnect privately.
Our next Marriage Enrichment Weekend is Friday 3rd to Sunday 5th November 2023.
At "The Cork International Hotel" Cork.
To book your place visit our website: www.marriageencounter.ie Tel. 087-2162436
---
Radio Maria Ireland to Launch Studio in Belfast – 7 September
RADIO MARIA IRELAND continues to grow across the island of Ireland! We are launching our Belfast Studio, located in St Marys Church, Chapel Lane, BT1 1HH, on Thursday 7 September, the Vigil of the Feast of the Nativity of the Blessed Virgin Mary. Starting with 6pm Mass in St Mary's Church followed by tea/coffee and an information evening about Radio Maria and its Mission, Vision and how it can help support the faithful in Ireland today. Why not come along and bring some friends! For more information www.radiomaria.ie or call 00353 86 838 9989.
---
Life in the Spirit Seminars
St Joseph's Hall , Omagh. Co Tyrone. BT78 5LW
Led by Apostles of Love Missionary Team
16th & 17th September
Registration 10am
Saturday 11am – 4pm
Sunday 10am -4.30pm with Holy Mass.
Celebrant Bishop Michael Router.
Enquiries & Booking phone 07876411435 or 07596609041
Cost: Donation for weekend
No Children under 12 .
---
---
St Patrick's 150 – Icon of St Patrick
This week marks the 150th anniversary of the dedication of Saint Patrick's Cathedral, Armagh, and includes the unveiling of a new icon which has been written by Sister Angela of the Redemptoristine Community Drumcondra, Dublin. Sister Angela explains her writing of the icon in the following way:
"Saint Patrick, Enlightener of Ireland, stands with his hand raised in the gesture of blessing. He holds the Cathedral of Armagh cradled in his arm in a gesture of protection, symbolic of his vocation as special intercessor for the people of Ireland and the Archdiocese of Armagh.
The Shamrock, distinctive sign associated with Saint Patrick, recalls the divine life and the Union of the Trinity into which we are called to participate.
The lamb's wool pallium, is a symbol of the service of authority – the yoke of Christ which is easy and its burden light.
Green is the colour of hope, newness of life. Saint Patrick brings the light of Christ to a people who dwelt in darkness (Isaiah 9:2). In iconography it often denotes where life begins. New life begins in Christ.
Saint Brigid is clothed in her monastic veil and cloak with a red mantle, the colour of love and vitality and sacrifice. She and Saint Malachy are pillars of faith and examples for those seeking to follow Christ.
Saint Malachy's blue robe denotes the mystic life, and recalls the visions and miracles attested to him."
Sister Angela continued, "In writing this icon, continuous prayer was offered for a renewal of faith in the hearts of the people of Ireland, that all our lives may be filled with the light of Christ. Prayers of thanksgiving were also offered for all those who are 'light bearers' and 'enlighteners' in our lives and for those who have been missionaries to us in any way. Praying before the icon helps to open our hearts and minds ever more to Christ, especially in deep gratitude for those who, like Saint Patrick, show us the way to Christ."
---
---
Are you looking for an introduction to Theology?
A qualification that allows you to teach Religious Education?
or, to start your journey to more study in Theology or Pastoral Ministry?
See below for information on our convenient Blended Learning Higher Diploma in Theological Studies.
This programme combines online modules with some on-campus attendance to fit around your other life commitments.
We have the largest Catholic Theology faculty in Ireland & Britain. You will be part of a community of learning that draws on a long and distinguished tradition of scholarship and pastoral practice.
* This Higher Diploma meets all the Teaching Council of Ireland's requirements for the teaching of Religious Studies at post-primary level. It entitles teachers holding Department-recognised degrees and teacher training qualifications to teach up to 15 hours' Religious Education per week in a secondary school.
---
To mark the 150th anniversary of the dedication of Saint Patrick's Cathedral, Armagh, a new icon of Saint Patrick (pictured) has been prayerfully and lovingly written by the Redemptoristine sisters of Drumcondra in Dublin.
"Saint Patrick, intercede for Ireland!" – homily of Archbishop Eamon Martin during 7.30pm
Evening Prayer to celebrate the 150th anniversary of the dedication of the Cathedral
Homily
There's a beautiful Latin hymn that is sometimes sung on the anniversary of the dedication of a church:
Locus iste a Deo factus est: This place was made by God!
Every time I visit this beautiful cathedral of Saint Patrick, look up at the splendid ceiling and see the colourful light spilling in through the stained glasses windows, I cannot help thinking: "This place was made by God"!
People who come here – of various Christian traditions, other faiths, even people who profess no particular faith or belief – are touched by the beauty of this place, because the Cathedral points us to something beyond our senses: to the Transcendent God, 'Three in One and One in Three', who is Truth and Beauty itself.
Visiting Saint Patrick's Cathedral is not like entering a museum or art gallery. This is the Lord's house; it is a living space of prayer which is deeply sacred. For a century and a half, people have come here to lift their hearts and minds to God: in praise and thanksgiving; in sorrow and petition and intercession. I think of all the baptisms, the first communion and confirmation ceremonies, the weddings and funerals that have taken place here. Imagine the millions of prayers that have been offered up here in times of joy and sadness; worry and happiness. I think of all the candles lit quietly in prayer, and faithful people asking God's help with important relationships, decisions or exams; placing their hopes and fears before God.
The foundation stone of the Cathedral was laid by Archbishop William Crolly on Saint Patrick's Day, 1840. There is a plaque just here on the sanctuary steps which commemorates that joyful moment for the Catholics of Ireland. That was like a renaissance moment after Catholic Emancipation – to have our own Cathedral here in Armagh, the see of Saint Patrick, after centuries of discrimination and exclusion. No wonder twenty to thirty thousand people turned up for the occasion!
But sadly, within a few years, the Great Famine hit Ireland and work on the new cathedral had to be suspended; the funds raised were distributed for the relief of the poor – Archbishop Crolly himself died of cholera in Drogheda on Good Friday in 1849. His body was taken back here to Armagh and he was laid to rest near this very spot in his unfinished cathedral.
It wasn't until six years later, at Easter 1854, that the construction recommenced under the leadership of Primate Joseph Dixon, with a new architect and a revised design. But Primate Dixon himself died unexpectedly before the work was finished and it fell to Archbishop Daniel McGettigan to complete the Cathedral. He declared Sunday 24 August 1873 as the day of opening and dedication. Massive crowds from all over Ireland, and beyond, gathered in Armagh for the occasion.
Our Cathedral that day would have looked very different to what we are used to today. The structure was the same of course, but much of the decoration and adornment had yet to be added. Subsequent years and decades would see the addition of the stained glass windows, the Stations of the Cross, the great Telford organ, the amazing mosaics, the painted ceiling, the marbles and carvings, the carillon of bells. Outside the Cathedral, here on Sandy Hill, the famous terraced steps, the sacristy, the synod hall and the gate lodge would all come later, as would the bishop's residence and offices at Ara Coeli.
It must have been very moving on that day of dedication to witness the anointing of the first altar of this Cathedral with Chrism: the altar, a symbol of Christ, the Anointed One, Christ the High Priest, who offered the sacrifice of his life on the cross for our salvation.
The walls of the cathedral were also anointed with Holy Chrism during the dedication, at twelve places; the candles you see lit along the walls this evening mark the spots where Archbishop McGettigan anointed the building.
Since 1873, the people of God in the Archdiocese have continued to restore, decorate, and maintain this beautiful cathedral. It has been rededicated on several occasions after major works in 1904; 1982, 2003. This weekend we thank God for the skills of the craftsmen and women who have worked on the Cathedral over the years, and for the generosity of countless people in Ireland and around the world who contributed during hard times, making great sacrifices to hand on this sacred space to us. Huge generosity came from the Irish diaspora, especially in America and Canada, and locally too from many of our Protestant neighbours.
Of course, no matter how splendid a Church building may be, we should always remember that the Church is made up of people – "living stones, making a spiritual house" (1Pet 2), and Christ is the cornerstone and sure foundation of the Church. One day this beautiful Cathedral will eventually fall into ruin or be replaced. What is really important is we keep alive the faith and hope that this place represents and hand on the faith to our children and grandchildren. Wouldn't it be a shame if this beautiful Cathedral ceased to be a living house of prayer and ended up as simply another interesting tourist stop for visitors to Armagh.
That depends on us – to be like our patron, Saint Patrick, who saw himself as an ambassador for Christ. Saint Patrick was a faithful and fearless witness who said he simply couldn't be silent about God, and wanted to shout out aloud about all that God had done for him here in the land of his captivity. For Patrick, being a missionary was a 'holy and wonderful work', something for which he was prepared to suffer insults, falsehoods, opposition, imprisonment, and, if necessary, even willingly give up his life.
During the past few weeks, at Masses on the top of Croagh Patrick, and on the Hill of Slane, I recalled the dream of Saint Patrick's in which he heard the voice of the Irish people calling out: "We beg you, holy boy, to come and walk again among us." Tonight, here in Saint Patrick's Cathedral city of Armagh, I call out once more: Saint Patrick, intercede for Ireland! Come and walk once more among us. Inspire in us a determination to work for the renewal of faith, hope and love here in our land.
In a few moments, I will bless and dedicate a new icon of Saint Patrick which has been prayerfully and lovingly written for the Cathedral by the Redemptoristine sisters of Drumcondra in Dublin. I ask that we all pray before the icon for the grace of God – the Three in One, and One in Three – to raise up strong ambassadors, witnesses and missionaries for Christ from among us. Our need is great, for sadly, many sons and daughters of Ireland are drifting away from the practice of the faith; some may even have abandoned God.
Dear friends, now it is our turn to shout aloud the message of salvation and share with others the difference that a foundation of faith makes to our lives. The best way to win souls for Christ these days is to witness 'heart to heart', to speak the truth with love and attract others to God by the example of our lives.
Brothers and sisters, like Saint Patrick we cannot, and should not be silent about God's love. We have work to do! The work of Saint Patrick – to rekindle the flame of faith in our own hearts, in our families, our diocese and across the whole of this island – north, south, east and west. Thanks be to God for our faith, for our hope in the Risen Christ, and for the love and charity that brings us all together this evening in this splendid Cathedral of which we are rightly so proud.
Locus iste a Deo factus est. This is the Lord's house. Thanks be to God.
Saint Patrick, pray for us.
---
Bring your school bag / backpack / etc and have it blessed ahead of the new academic year!
Blessing available at 6.15pm Vigil Mass Saturday and 10.30am & 12 noon Masses on Sunday.
---
---
---
Annual Novena to Our Lady of the Assumption
Our annual Novena to Our Lady of the Assumption (patroness of our parish church) begins Monday 7th August and concludes 15th August, Solemnity of the Assumption of the Blessed Virgin Mary.
You can find the Novena prayers here:
---
"The one who saw it has borne witness" (John 19:35)
Johannine characters and their voices in the Fourth Gospel
The Priory Institute two week online Summer School on the Gospel of John will run from 14-28 August. The course includes eight recorded presentations and two on-line zoom discussions and is very flexible as it is delivered entirely online. Please visit our website to find out more and to register www.prioryinstitute.com
---
Invite to 150th Anniversary Celebrations
St Patrick's Cathedral, Armagh,
from Archbishop Eamon.
---

Archbishop Eamon Martin celebrates Mass
on the Hill of Slane:
"Light the Flame of Faith!"
Archbishop Martin: "The way to win souls these days will be 'heart to heart', by speaking the truth with love and attracting others to God by the example of our lives"
Background
Today, on the major Feast of the Transfiguration of the Lord, we also mark World Youth Day in the Catholic Church. At Slane, Co Meath, in the spirit of WYD, an expected three-thousand people are expected to attend an outdoor Mass on the Hill of Slane to be celebrated by Archbishop Eamon Martin, as part of the 'Light the Fire' festival of faith. During the day, a service of healing will be led by Sister Briege McKenna, who will be accompanied by Father Pablo Escriva de Romani. Dana Rosemary Scanlan will also perform her new song Light the Fire, recalling how our patron Saint Patrick lit the fire of faith on Slane in 433AD.
Today also marks the conclusion of the near week-long 37th World Youth Day festival in Portugal. This global celebration of faith for young people is being attended by Pope Francis who, earlier in the week, visited and prayed at the Marian Shrine of Fatima. This morning the Holy Father will celebrate Mass at 9.00am in Lisbon for an estimated one million people.
Homily of Archbishop Martin for 2.00pm Mass on the Hill of Slane
Peter's words on the mountain of the Transfiguration come to mind this afternoon, here at the hill of Slane: "It is wonderful for us to be here"!
At the transfiguration Peter, James and John were given a glimpse of the transcendent God. The face of Jesus Christ radiated hope, shining like the Sun; Hs clothes became dazzlingly white. The same three disciples would soon be asked to share a very different moment with Jesus on the Mount of Olives, during His agony on the night before the crucifixion. But the Transfiguration experience would remain for them a promise of hope – that by His dying Christ destroyed death; by rising, He restored our life!
It is interesting that many of the key events in the life of Jesus took place on hills or mountains – His temptations; His most memorable teachings; His agony, crucifixion and resurrection. In Old Testament times also, the People of God experienced the Transcendent God on mountains like Sinai, Horeb, Moriah.
We have our own holy mountains and hills here in Ireland: like Slemish in County Antrim; Croagh Patrick in County Mayo and, of course, here on this historic hill of Slane in County Meath where Patrick lit the Paschal fire to proclaim the Risen Lord and the coming of Christianity to this land. It is indeed wonderful for us to be here, and to give thanks today for the generations of faithful people who since the time of Patrick have lived the joy of Christianity and passed on to us the flame of faith – 'in spite of dungeon, fire and sword.'
Just as Jesus invited His three friends to join Him in prayer on the mount of the Transfiguration and at Gethsemane, He has invited us here today – first and foremost – to pray. Remember Saint Patrick came to this hill to pray, to celebrate the Easter Vigil. He was not seeking to cause trouble with the pagan powers that be – He came here to witness to the Risen Lord! He came to evangelise – to share the light and joy of the Gospel.
Similarly God has called us to Slane today, to give us new life in the Holy Spirit and to send us out from here, carrying the torch of faith with courage and conviction. Let us make our own these words from Saint Patrick's powerful profession of faith in the Holy Trinity, which are recorded in his Confession (C4).
"There is no other God, nor will there ever be, nor was there ever, except God the Father… the one who holds all things in being – this is our teaching. And his son, Jesus Christ, whom we testify has always been…with the Father in a spiritual way… Everything we can see, and everything beyond our sight, was made through him. He became a human being; and, having overcome death, was welcomed to the heavens to the Father…Let every tongue confess that Jesus Christ, in whom we believe and whom we await to come back to us in the near future, is Lord and God. He is judge of the living and of the dead; he rewards every person according to their deeds; He has generously poured on us the Holy Spirit, the gift and promise of immortality, who makes believers and those who listen to be children of God and co-heirs with Christ. This is the one we acknowledge and adore – one God in a trinity of the sacred name."
Friends, our patron saint tells us he couldn't be silent about all that God had done for him here in the land his captivity. Saint Patrick had a burning conviction that he was called to be a witness, to spread the name of God 'faithfully and without fear'. For Patrick, to be a missionary was a 'holy and wonderful work', something for which he was prepared to suffer insults, falsehoods, opposition, imprisonment, and even willingly give up his life. Patrick saw himself as an 'ambassador' for Christ here at the 'furthermost parts of the earth'.
Last Sunday at Mass on the top of Croagh Patrick, I recalled the dream during which Saint Patrick heard the voice of the Irish people calling out to him: "We beg you, holy boy, to come and walk again among us." And, today, I call out once more from this historic and holy Hill of Slane: Saint Patrick, intercede for Ireland! Come and walk once more among us. Inspire our dream for a renewal of faith, hope and love here in our land.
I ask for the grace of God – the Three in One, and One in Three – to raise up ambassadors, witnesses, missionaries for Christ among us. Our need is great. For, sadly, many sons and daughters of Ireland are drifting away from the practice of the faith; some may even have abandoned God. How much our land needs the uplifting power of faith, hope and love – today, more than ever!
The Church in Ireland is also going through a testing time. The terrible sins and crimes of abuse have had tragic consequences for so many victims and, as Pope Benedict XVI put it, these sins and crimes "have obscured the light of the Gospel to a degree that not even centuries of persecution succeeded in doing." This must be a purifying time for the Church in Ireland, a humbling time, which brings us to our knees to beg forgiveness for the awful betrayal of a sacred trust.
Saint Patrick tells us that his exile and captivity as a teenager in Ireland was a bitter, but purifying experience – it was the first time that he turned personally to God with all his heart, and discovered the spirit of God burning within him. He and his family had drifted away from God and from the practice of their faith; they no longer kept God's Commandments, and had stopped listening to advice of their priests on how to be saved.
But during Saint Patrick's time of exile and slavery he experienced personally the love and mercy of God. He writes (C12): "I was like a stone lying deep in the mud. Then he who is powerful came and in his mercy pulled me out, and lifted me up and placed me on the very top of the wall. That is why I must shout aloud in return to the Lord!"
Dear friends, we are not here by chance. God has brought us here. And it is now our turn to shout aloud the message of salvation and tell others about the difference that faith makes to our lives, and the value it brings. But in doing so we must be mindful, as Saint Paul said, that we hold the treasure of faith 'in earthen vessels'; its extraordinary power belongs to God; it does not come from us (2 Cor 4:7).
As we go out from here to spread the Gospel, we must seek to convince others, but avoid engaging in pointless polemics which make lots of noise but fail to win hearts for Jesus and the Gospel. Yes, we must stand up for the faith; yes, we must confront falsehood and evil as Saint Patrick did. But the Gospel cannot be imposed; we must propose it with conviction and joy. The way to win souls these days will be 'heart to heart', by speaking the truth with love and attracting others to God by the example of our lives. Those who meet us must see that our lives are 'transfigured' by faith, hope and love. And then they will be inspired to inquire, 'What is that treasure you have? You, believer, you live your life totally aware of this world with all its struggles and problems, but you point us to the transcendent, to our real homeland and destiny in life beyond this world, with God, in heaven; how is it that you have such meaning and purpose in your life? You radiate hope in this troubled world!'
Those whom we meet say, 'You, person of faith, you respect the dignity of all life; you are a responsible steward of all God's creation; you care for the poor, the homeless, the displaced; you weep for the trafficked child, the abused woman, the struggling family; you are compassionate to those addicted by drugs and alcohol. We notice how you reach out to the victims of war and violence and you spread peace everywhere you go; you are a forgiving and merciful person; you do penance, you make sacrifices and yet you are happy in yourself; you love to pray the Rosary, to attend Mass and to to spend time in adoration with God. We want what you have!'
Wouldn't it be wonderful if people said this of us, believers, and if they remarked, as the prophet Isaiah once did:
"How beautiful upon the mountains
are the feet of the messenger who announces peace,
who brings good news,
who announces salvation" (Isaiah 52:7).
Brothers and sisters, we cannot be silent. We have work to do! The work of God. The work of salvation. The work of Saint Patrick. I look forward especially to being joined in this task of new evangelisation by all of you, and especially the committed young people of faith who are here today and by the many amazing young people returning to Ireland from their joyful experience at World Youth Day in Lisbon! With them, let us "go in haste", as Mary, our Blessed Mother did after the Annunciation, to proclaim the Good News and rekindle the light of Christ once more across the island of Ireland.
And as we go away from the Hill of Slane today, may we be inspired by the words of Dana's new song:
"Light the flame in our hearts once again, and the fire will burn in the darkness, as on this ancient hill, the embers burning still."
Saint Patrick, pray for us!
Amen.
---
---
---
Message from Fr. Damien:
After sharing the news with my family and with the people whom I serve at Mass this weekend, just to let you know that Archbishop Eamon has appointed me to the Parish of Dunleer to serve there as parish priest, effective September 9th.
Thus I will be leaving Middle Killeavy and hospital chaplaincy in the first week in September. This is not "Goodbye" just yet but that time is approaching.
As you can imagine, these are days of mixed emotions for me and I would treasure your remembrance of me in your prayers. Please also pray for the people of Dunleer Parish as they say goodbye to their parish priest of many years.
When I came to Middle Killeavy almost seven years ago now as a newly ordained priest, I pledged to do my very best to help you – the people I serve – know that you are sought after, loved and forgiven by God. Please pray that I may also serve the people of Dunleer in that way, to the best of my abilities, with the support of their prayers and, above all else, with the grace of God.
"Jesus went through all the towns and villages…" (Matthew 9:35).
Lord, I walk in your footsteps.
Fr. D.
---
---
---
Do you want to learn more about your faith? If you are interested, why not consider joining the Theology programme run by the Archdiocese and accredited by St Patrick's Pontifical University, Maynooth.
The course takes two years with one night per week and two weekends over the academic year.
There are no educational entry requirements, and completion of the course is based on submitted work and does not include sitting exams.
The course will begin on 12th September. If you are interested and would like more information, contact Milanda on 00353 429351316 or milanda@parishandfamily.ie (9am – 2pm).
---
---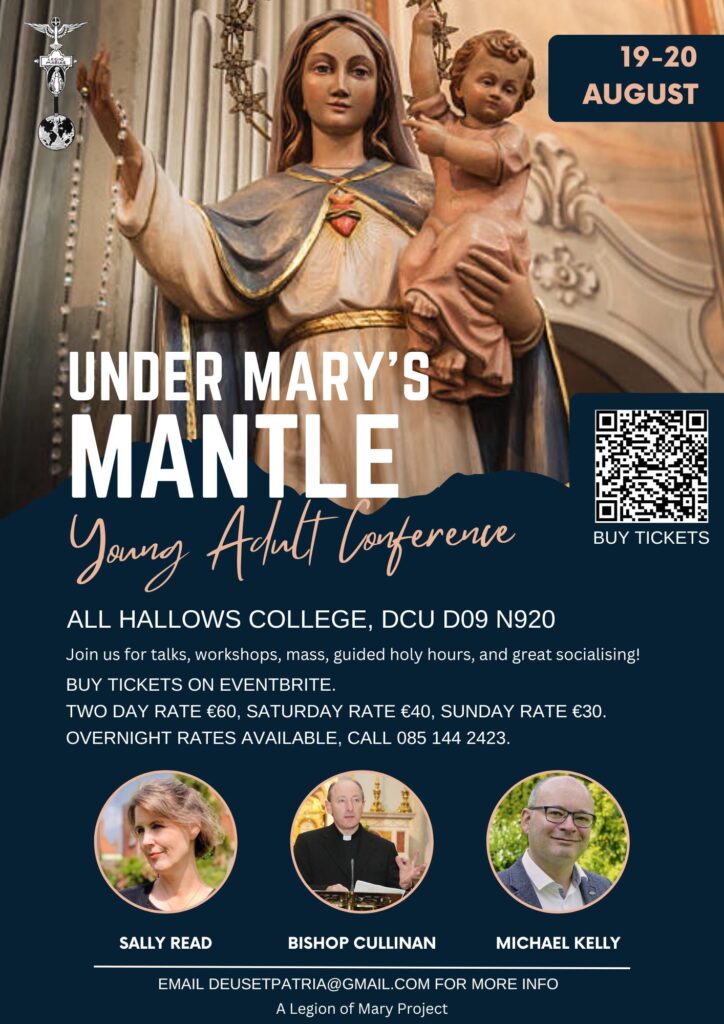 ---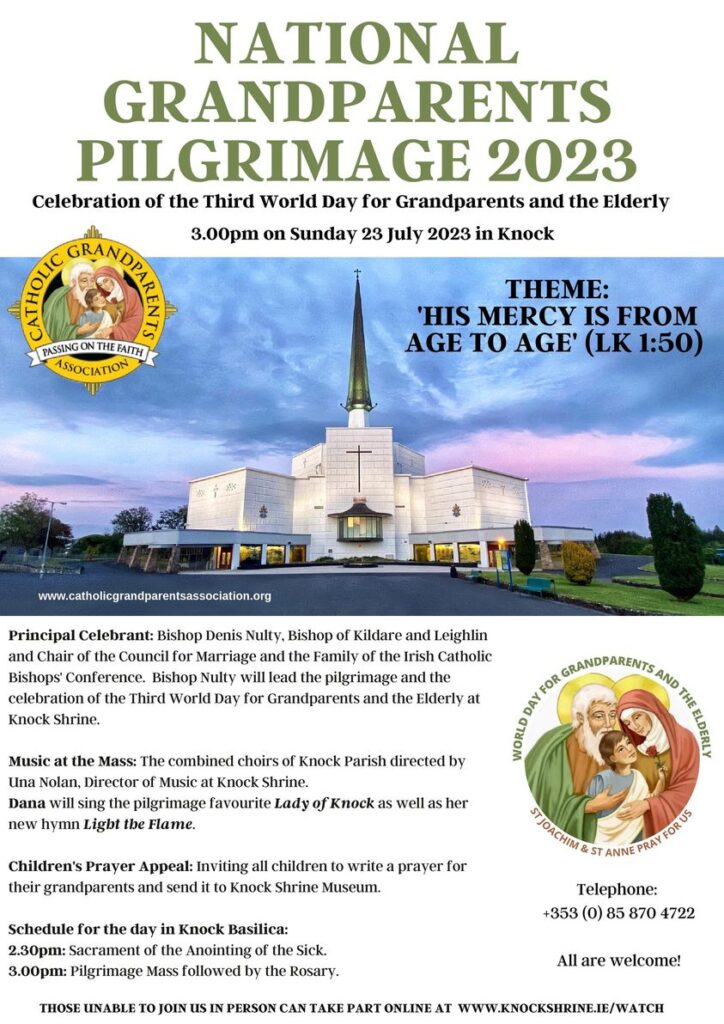 ---
For more information, visit
https://sppu.ie/courses/higher-diploma-in-pastoral-liturgy#:~:text=The%20Higher%20Diploma%20in%20Pastoral,obtain%20a%20credential%20for%20it.
---
Young Adult Catholic Conference
August 19th & 20th 2023
'Under Mary's Mantle' is a conference on faith and culture for young adults (18-35) with talks, prayer, Mass, Confession, workshops, food and socialising in the historic All Hallows campus, DCU, Dublin. A chance to build your faith in friendship with young men and women from across the country. The conference takes place Saturday 19th and Sunday 20th August, with a discounted ticket available for both days. Single day tickets are also available.
Two day Saturday & Sunday – €60
Day rates – Saturday €40; Sunday €30
STUDENTS get a 10% discount – contact deusetpatria@gmail.com for discount code.
There is a limited amount of accommodation available in DCU, contact deusetpatria@gmail.com or call 085 1442423 for rates and more information.
---
National Grandparents Pilgrimage in Knock 2023
Celebration of the National Grandparents' Pilgrimage will take place in Knock on Sunday 23 July – World Day for Grandparents and the Elderly. All are welcome for this wonderful celebration of family and faith through the generations. The Principal Celebrant and Homilist will be Bishop Denis Nulty, Bishop of Kildare and Leighlin and Chair of the Bishops' Council for Marriage and the Family. Dana will sing the pilgrimage favourite, 'Lady of Knock' as well as her new hymn, 'Light the Flame'. For more information see www.catholicgrandparentsassociation.org. Those unable to join us in person can take part online at www.knockshrine.ie/watch
---
Maryvale Institute, Birmingham
Study part-time, by distance learning for a Bachelor of Divinity (BDiv) or a Licence in Divinity
The Ecclesiastical BDiv is a five-year part-time, collaborative-learning degree programme in Catholic theology providing a comprehensive exposition and analysis of Christian doctrine based on the study of the sacred Scriptures, the works of the Fathers and Doctors of the Church, and the documents of the Magisterium.
Contact: Admissions tutor, Deacon Dr Harry Schnitker at: researchcentre@maryvale.ac.uk.
Download an information pack here:
---
Bishop Kevin Doran and Petra Conroy from the Council for Life take us through some key points from the Catholic Bishops' statement 'Abortion – Changing the Narrative.'
Full statement – www.catholicbishops.ie
---
A Second Year!
Our friend Sarah McArdle is volunteering for a second year with Christ in the City!
Christ in the City forms young Catholic missionaries to know, love and serve the poor. Every weekday the missionaries walk the streets encountering the homeless and bringing Christ's love where there is no love and light to the darkest of situations.
Sarah needs people to partner with her in this mission. She needs to fundraise $11,500 to continue the mission of bringing hope and walking with her homeless friends toward healing and re-integration to society. The money goes directly to the formation of missionaries so they can continue to love the most forgotten in society, and also for direct resources for their friends on the street.
Please prayerfully consider your ability to donate financially, remembering that "some give to the missions by going, others go to the missions by giving" (Mother Teresa)
You can donate via the link below and sign up for a one time or monthly donation.
Please keep Sarah and the mission of Christ in the City in your prayers as the missionaries seek to help the homeless fulfil their deepest need for human connection.
For a glimpse of the ministry of Christ in the City, watch here:
---